Lol! Railway, you are unbelievable. My buddy Arnie has one of those. It makes for good reading!
---
Meissner @ Kyalami
---
Railway
Just to quote Henry from a message I received from him earlier about this Escort of which he talks about three prototypes built. That must be one of them.

"Yes this Meissner Escort was proposed for production.
3 x prototypes were built but the car never actually reached production.

This could be due to 2 reasons.
1) From 1970 Ford marketed it's own ans now very rare Escort 1600 GT.
2) The Meissner OHC conversion was not as successfull as hoped for and would have resulted in excessive warranty claims.

I doubt whether any of the 3 prototypes survived.
Henry"

About the Ford-Meisner Catalog:

"Yes I have a copy of this catalogue given to me by Willie Meissner Jnr. (Son of the late Willie Meissner)
Cheers
Henry"

One day I'm going to catch you out Henry. If not me then Firenza GT !!
---
This "project" must have been stopped very late, as it was already in the papers (see pics)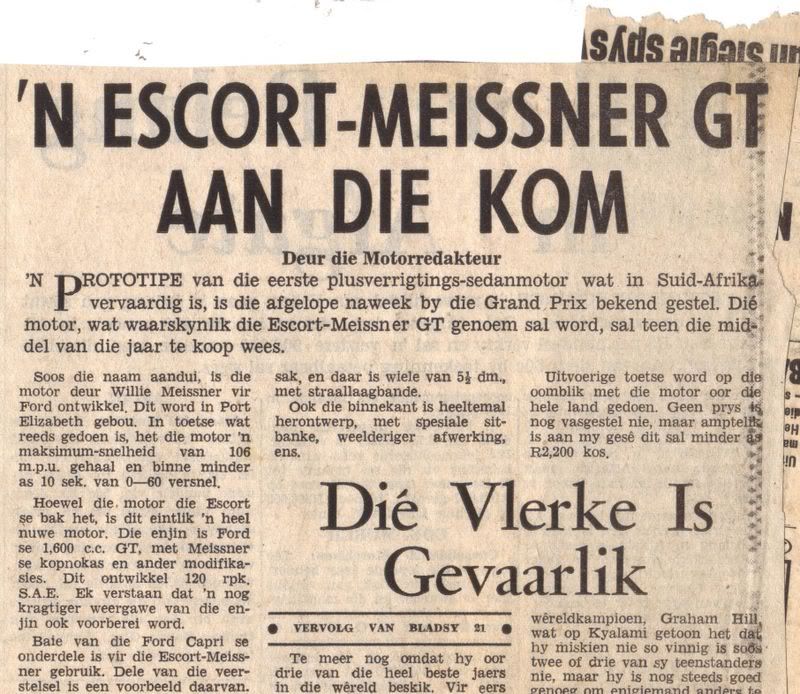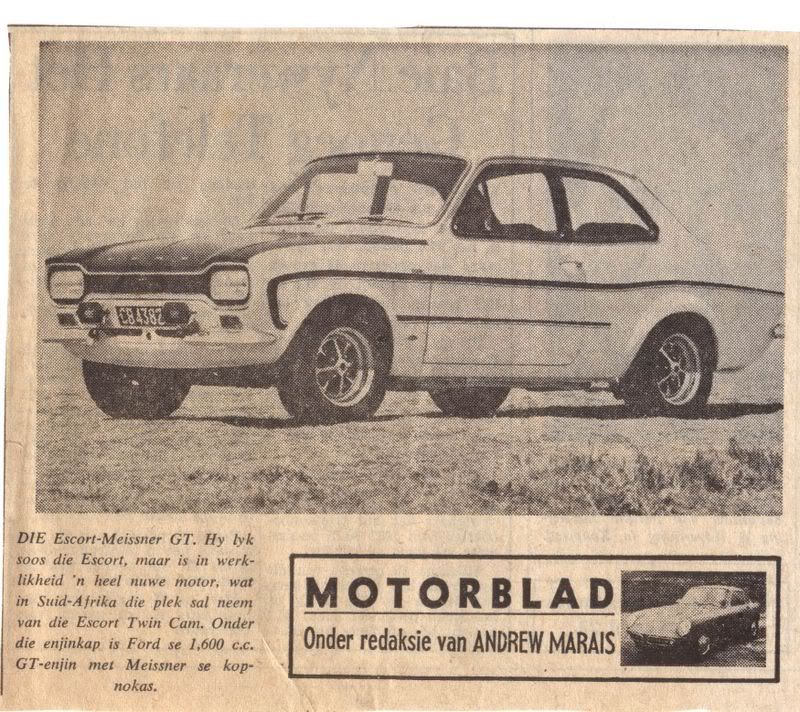 ---
Amazing pictures of a car I didnt know existed, looked great but as Henry mentions the OHC engine would have resulted in huge warranty claims, a pity that none of these cars has survived....
Alfa GTV 3.0
Ford Capri Perana V8
Chevy Lumina Supercharged

Wait not for tomorrow to do what can be done today, live each day for one knows not what the next day may hold.
---
Posts: 731
Joined: Sat 12 Jan 2008, 21:23
Location: Cape Town
Does anyone know much about the Perana Escort?
---
---
Hi Killarney Racer


Perana Escorts are extremely rare.

Ther first 100 were actually imported RS1600s with the BDA engines replaced by 2 litre Pinto engines.

Only 4 of these cars are known to exist in S A..

Info of all 4 owners/cars have been provided to John Britz of the Perana Website.

3 of the vehicles are in Gauteng and one in Cape Town

One of the Gauteng cars has just been fully restored and another is about 75% through a restoration. It is currently being reassembled.
Escort's Forever !
---
Hi Railway/ Firenza GT/ Anything else you call yourself!

Lino this is a passion that started 40 years ago.

One day early in 1968 my dad came home after work and told me a new small ford had arrived at the local Ford dealer. It was not allowed for public display yet and was hidden away in a corner of the workshop.

Naturally the next day after school I was there, looking for the car. It was a red Escort 1300 GT with black interior and the most beautifull thing I had ever seen.

Well right there a love affair started that has lasted 40 years.

Very much similar to you and you little Chevs

Over the years I,ve collected lots of Escort related litterature, amongst others the Meissner catalogue kindly given to me by Willie Meissner Jnr.

Also being a member of the AVO Club has given me a lot of info about these cars.

This is Advanced Vehicle Operations, a seperate Ford Factory in U K where all the Mk 1 RS Escorts (RS1600, RS2000 and Mexico) were built.

And today I am extremely fortunate to own one of these rare vehicles.

But no one can know everything and I'm sure one day you'll catch me out.

By the way I got some Can Am tune up specs from a mate in P E.

Will let you have it once i've figured out how to get it off the disc.
Escort's Forever !
---
Posts: 731
Joined: Sat 12 Jan 2008, 21:23
Location: Cape Town
Thanks Henry. I was not aware of this. So what was Basil Green's involvement and why was the BDA engine replaced? If there were a 100 made and only 4 remain, what happened to the rest? That is a high fall out rate.
---
Social Media
Who is online
Users browsing this forum: No registered users and 2 guests